3 Common Mistakes, that can cost you thousands.
1. Selling privately
Sellers often assume that selling privately will save you the cost of whatever commission you would have to pay a Real Estate Agent to sell your home. Professional Realtors in Ontario typically charge 4-6% to sell your home, with around half of this being paid to the buyer's agent. This is known as the listing commission and the buyers commission.
Here is what you need to know…
If you sell privately, the listing commission is the only commission you would avoid as most buyers have agents working for them, who generally charge a buyers commission of 1.5% – 2.5%. If you do not offer a buyers commission, your buyer still pays their agent, which will be reflected in the buyers offer.
Pro tip: Realtors are not eager to show their clients private listings.
Selling privately is only recommended for sellers who are very familiar with the buying and selling process, and not afraid of the many potential legal pitfalls. For starters, sellers will need to be intimately familiar with local home values. You will need to pay close attention to constantly changing market trends, have lots of free time on your hands, have excellent negotiating skills, and thick enough skin to handle the negative feedback you are likely to hear about your home. Potential buyers can be harsh and unforgiving, in an effort to lower the value of your home.
You should understand how to prepare your home for sale. Clean, declutter and curb appeal are essential listing tactics. Renovations and staging are also options, but most importantly, choosing a strategic a list price is critical. With the actual value of your home in mind, your list price should be attractive enough to generate offers in the price range you are looking for, and not too high to keep buyers from having a closer look.
You should have your home appraised by a Real Estate Professional or a Real Estate home appraiser within days of when you plan to list, as prices tend to change quickly.
Pro tip: If your list price is too high, you risk not getting offers within your acceptable price range, or worse, no offers at all. The longer your house sits on the market, the more buyers tend to believe it is overpriced, or think something is wrong with the house, lowering the perceived value.
Professional photos, videos and IGuides are a must in todays market, no matter how great your photography skills are. The majority of buyers are searching for homes online, and good first impressions are crucial to the sale of your home. Also, you will need to advertise your home on multiple websites, and all social media platforms, where your listing can be seen by buyers of all ages and demographics.
Hint: Posting on Facebook and Kijiji alone will not cut it.
You will need to be available around the clock to answer calls, texts and emails about the details of your home, as well as schedule viewings and tours of your home and property. You will need to qualify buyers to determine if they are serious buyers with the financial means to purchase your home, or just tire kickers and curious neighbors.
Caution: Be vigilant and cautious, as there are growing reports of scammers and thieves, who may be scoping your home for nefarious reasons.
2. Using a discount brokerage.
In this highly competitive market, discount brokerages and part time agents are very aware that sellers are often drawn to the smallest fees, without considering the quality of the services that are needed to sell your home for top dollar.
Here is what you need to know…
A discount brokerage or part time agent, will offer to list your home on the Multiple Listing System (MLS), for a 1% listing commission (or less), plus a buyers commission of 1.5%-2%. How can they do this? By spending less money and time on your listing.
Professional photos, videos and IGuides are expensive, you can expect them to save money here by taking photos with their own camera/phone. Professional advice and guidance throughout the sale process is challenging and time consuming, and you are at the mercy of the level of knowledge, expertise and time that your agent shares with you. You will need to be in constant communication with your agent with many questions and concerns about your listing, but don't expect quick response times. These agents typically have other jobs to support their incomes. An agent who is not fully invested in the sale of your home, may not give your listing the attention it deserves.
Summary: Discount brokerages and part time realtors do not offer the level of expertise, attention to detail and concern for you or your listing that is needed to sell your home for top dollar. Lower commission=less effort.
3. Using a flat fee/online service.
Online services such as FairSquare, formally Purplebrick, formerly CommFree charge around $4,000, plus a Buyers commission of around 2%.
These online companies charge a flat or fixed fee, for the basic service of adding your listing to Multiple Listing System (MLS).
Here is what you need to know…
As with private sales, these services are only suitable for sellers who are very familiar with the buying and selling process. They offer a team of non commission sales staff who will walk you through the whole process, over the phone. Actually they have 3 teams: Customer support team, Showings team and an Offer and negotiation team, all just a phone call away, with their closest office being in Stoney Creek, Ontario.
Response times to your phone calls about your listing can vary greatly, as your agent is whoever answers the phone during office hours of 9am-7pm, Monday to Thursday, Friday to Sunday 9am-5pm, closed on Holidays. A flat fee service will gladly keep your listing on MLS, no matter how long it takes to sell your home.
Summary: Flat fee services offer no expertise and no individual agent looking out for you or your specific needs. No commission=no effort.
Statistics show that private sales take 2-3 times longer to sell than professionally listed properties.
In summary: Remember the old adage, you get what you pay for!
Professional Realtors, market their listings on dozens of websites with interprovincial and international reach, multiple social media platforms, including websites that are exclusive to Realtors. There are over one thousand Realtors in Windsor and Essex County alone, tens of thousands of agents in Ontario, and most Realtors have or have access to dozens and often hundreds of active, qualified buyers.
Professional Realtors qualify buyers, ensuring that they are financially capable and seriously committed to purchase your home.
A Professional Realtor will take the time to listen to you and understand your specific needs and wants. In order to sell your home for the most money, in the shortest time, it is essential to have a strong working relationship between the Realtor and the seller. Remember that they have a legal duty to represent your best interests throughout the sale of your home.
Realtors in Ontario typically return 3-5 times the commission value. This means that if you pay a commission of $20k on the sale of your home, the overall sale value can be $60k-$100k higher, when listed with a Professional Realtor.
Unlike discount brokerages and online services, a professional full time Realtor offers around the clock and direct access, advising and protecting you and your family from the moment you call, until closing date and beyond.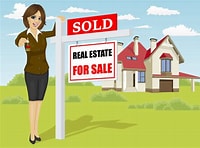 FACT: The average Canadian moves five to six times in their lifetime.
A Professional Realtor can provide you with peace of mind; knowing that your family and probably your most valuable asset, are in good hands.
Buying or Selling a home can be highly stressful: Call a Professional Realtor today, that you can count on to be there with you every time.